What I Do
I often find myself struggling to explain what I do to people, and how it all fits together. Here's the full story.
The Short Version
I have 2 companies. Honeybadger is a product company which I cofounded with Ben Curtis and Starr Horne in 2012. Hint is a software consultancy that I cofounded with my brother, Ben Wood, in 2014.
Hint and Honeybadger have nothing to do with each other, except that they are both awesome companies owned by me and partners named Ben (duh).
When I'm not at home (or at the gym), I like to hang out at the Hint office in downtown Vancouver, WA. I'm "employed" by Honeybadger, though, which does not have its own office (we are 100% virtual/remote, based in Seattle).
In total, I try to work 20-30 hours/week, mostly on Honeybadger, but I also spend a small amount of time on business strategy at Hint. The rest of my time is for family and personal development.
Many activities consume my days; here is a non-exhaustive list:
Writing documentation and creating processes for common tasks
Other types of writing (sales copy, articles, emails, etc.)
Reviewing pull requests and managing contractors
Experimenting with new marketing techniques
Product management and planning new features
Customer support
1 hour of exercise minimum
Reading (books, articles, papers, proposals, magazines, etc.)
Programming/software development
Adding it all up, if I'm one thing, I'm an entrepreneur. I often wear many hats, but at the end of the day my job is to ensure that my businesses are on track to meet the unique goals that my partners and I set for them. If you're wondering how I got here, read on.
---
The year was 2011.
I had been working as a freelance web developer for about 10 years, building everything from design/interactive projects to regular old websites, to full-blown web applications.
For the past few years I'd collaborated with two online friends of mine: Ben Curtis and Starr Horne. We actually wouldn't all meet in person until after starting a company together, but that's a different story.
The three of us mostly developed Software As A Service (SaaS)-style web applications (the business model popularized by Salesforce) using a popular programming framework called Ruby on Rails.
While building apps for clients was fun, we were all tired of the hourly grind, and really wanted to create our own apps. So we started looking for an opportunity.
That opportunity arrived the next year, in 2012. An app that we all used and loved started to have some problems, and frustrated by it, we saw our chance: we could make something better. So we did. We called it Honeybadger, and believe it or not, people loved it. It took off. (You can read more about our story here).
While we had paying customers from day one, it was slow going at first, and we all had families to support. We kept consulting on the side to pay the bills, while spending the rest of our time working on Honeybadger. Gradually, Honeybadger made more money, which allowed us to pay ourselves more, which allowed us to spend less time consulting (this is called "bootstrapping").
During this time, my consulting business, Hint Media, was really booming. I had more work than I could handle, and began to hire subcontractors to help manage it all.
One of the subcontractors I hired was my brother, Ben Wood. Ben had a background in audio engineering, but was interested in web development, and we ended up working together a lot.
It was the perfect timing; I wanted to spend less time working on client stuff, and Ben wanted to spend more time on it. As Honeybadger began to consume more of my time, Ben and I agreed to partner on a new company, which Ben would run.
In 2014 we changed the name from "Hint Media" (wtf does "media" have to do with software?) to just "Hint", got a tiny office in downtown Vancouver, WA, and hired our first employee.
Fast forward 4 years, to 2018.
Honeybadger will be 6 years old, and has thousands of happy customers. Ben C., Starr and I have really built something special. We're a bit unconventional: we have no investors, no offices, no employees, and we've optimized the company for profit—or as we like to call it, "making it rain". 🤑
Honeybadger allows us to do things like take a month off for our families, or for that matter take the afternoon off if we feel like it. Its purpose has always been to give us the freedom to pursue our dreams.
Hint, meanwhile, has grown to a team of 7, and we have a much larger office now. We've lazer-focused the company on helping medium sized software teams maintain and improve their software applications while forging long-term, trusting relationships with our clients.
At Hint we're really excited to build a fun, healthy, and rewarding workplace which provides us the freedom and security to live extraordinary lives. Here are a few of us right before we took some time off for Christmas vacation, obviously working hard right up to the very end: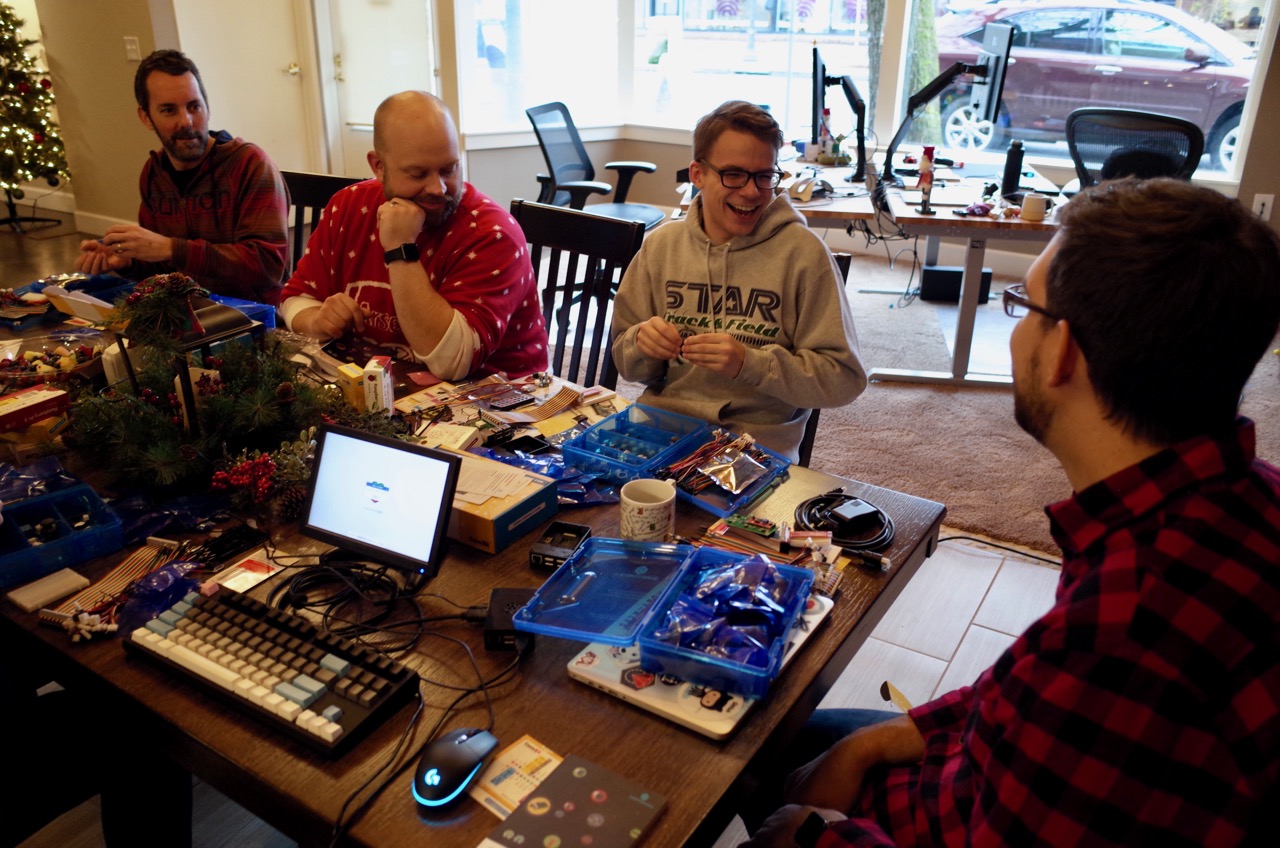 I love building businesses, and the unique challenges that they present. I'm hoping to share more about our approach as we continue to learn and grow.
No webmentions were found.